Technopolymer gears for the food industry: Stagnoli has the right alternative to PEEK
27 July 2023
The use of metal components in the food industry can be an impractical and resource-intensive choice. In fact, metal gears must be subject to regular maintenance as they could contaminate foodstuffs in industry production owing to the most common corrosion phenomena. In addition, there is also the contamination caused by the products required for lubricating the moving parts.
This is why, in recent years, the pursuit of alternative plastic materials that could overcome these problems has taken off. PEEK is definitely the star of this revolution, used in the chemical industry and many other sectors, including the food industry.  
PEEK is a material capable of remaining unaltered even in environmental situations where most metals, including noble alloys such as corrosion-resistant steels, fail in a short time. It ischaracterised by its excellent resistance to high temperatures (up to 260°) and resistance to radiation (X-rays and gamma rays), which makes it the ideal solution in certain applications and as a replacement for metallic materials. Moreover, it is a material suitable for food contact as it is highly resistant to sterilisation cycles. Its only disadvantage is the cost per kg, which is higher than commercially available technopolymers. This aspect severely limits its use.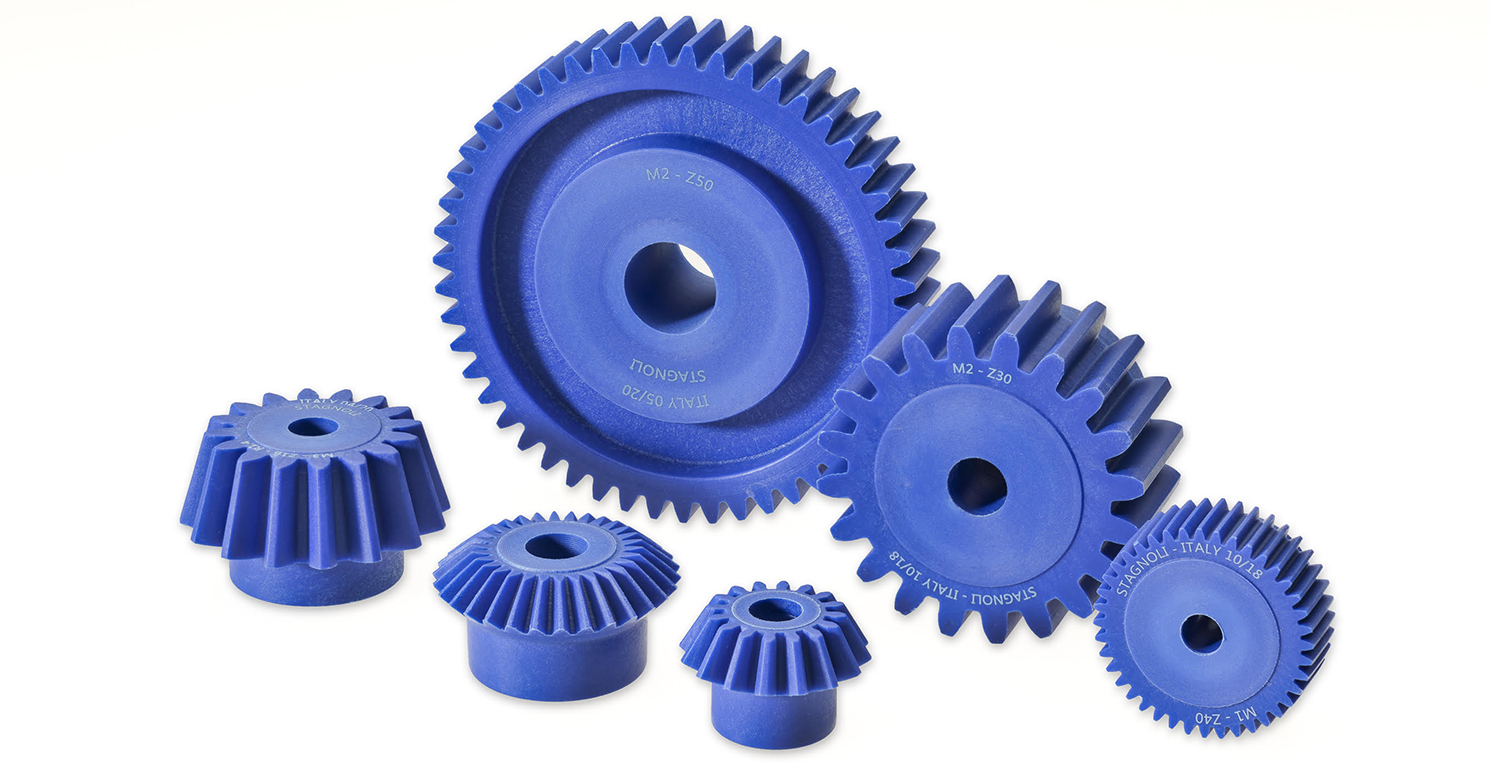 What is a viable alternative to PEEK plastic gears for the food industry? Once again, Stagnoli has the answer!
The ability to innovate and keep up with market requirements was the driving force that enabled Stagnoli's R&D department to identify an alternative to PEEK plastic gears. The solution obviously had to have similar properties, but at a much lower cost.
After careful analyses and studies, we identified an innovative polyamide-based technopolymer loaded with glass fibres. This material is certified, food-safe and complies with US FDA regulation 21 CFR 177.2415, as well as with European standard 10/2011.
This technopolymer has been additivated with a blue coloured master (also certified for food contact) to make the detection of any traces on products easy and immediate.
Stagnoli has introduced an entire line (the blue range) in the catalogue, which includes:
Spur gears from module 0.5 to module 4;
Bevel gears ratio 1:1, 1:2, 1:3 and 1:4.
All food-related gears in the range comply 100% with the requirements of the MOCA Regulation. In addition, they replicate all the dimensions of commercially available gears, so they also have the advantage of being able to replace those on machines without the need for structural or partial modifications.
Like all plastic gears, these new products from Stagnoli too can run dry, simplifying the design and maintenance of the machine, which will no longer require lubrication by oil or grease. This feature eliminates any risk of food contamination and makes the entire production chain safer and more reliable, resulting in lower costs and fewer problems.
Visit the site or contact our sales department: experienced technicians will answer any questions about the food gears offered by Stagnoli.