Stagnoli since 1981: foresight and experience in choosing glass fibre reinforced polyamide 6 for moulding
17 September 2020
Almost forty years after the company's foundation, today it is possible to confirm it with data: Stagnoli's decision to use PA6 + 30%GF for the moulding of gears and transmission parts has proven to be a winning one. Confirmation has come from two key areas for the company's success: market and research&innovation.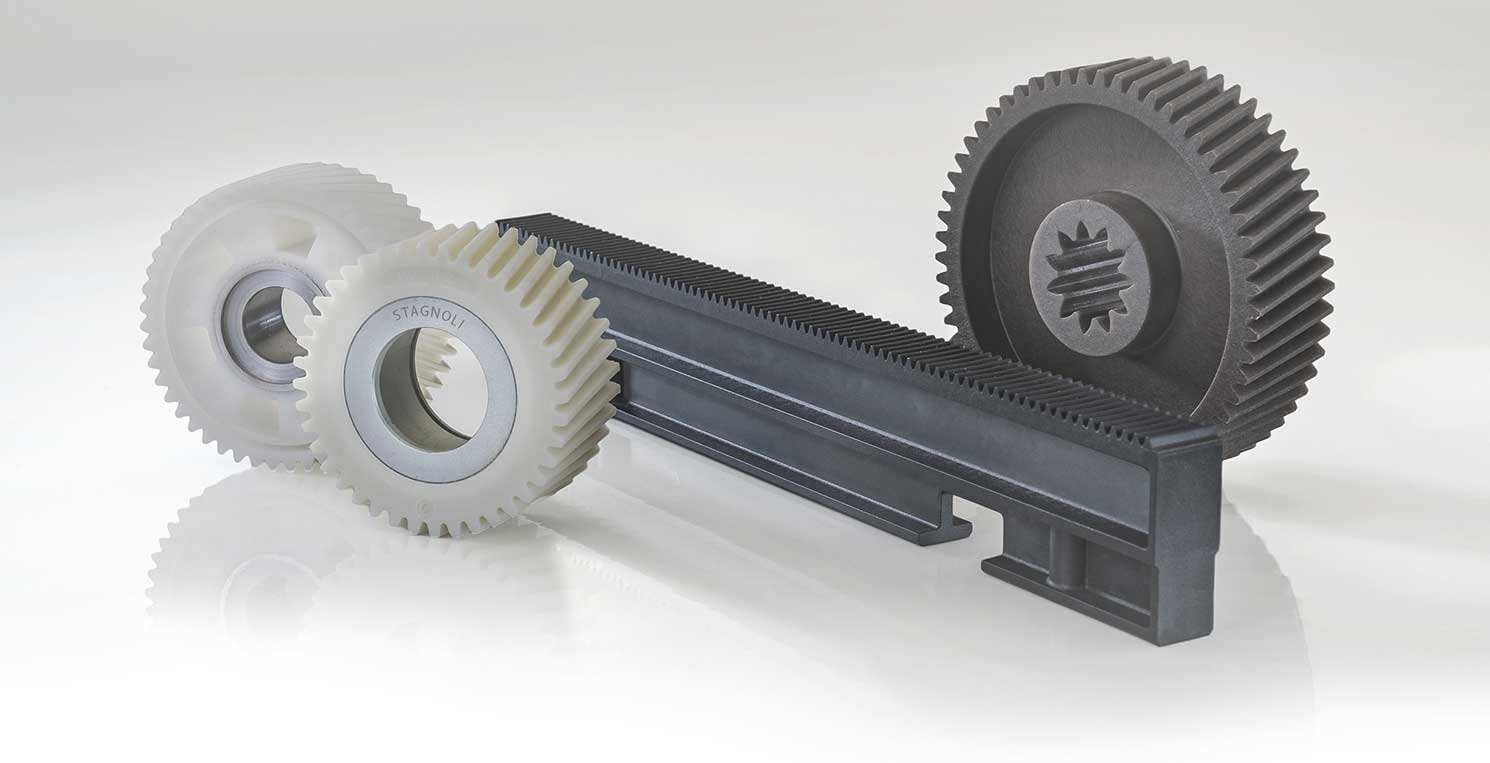 As professionals in the sector know, the shortage of Nylon 66 caused by the limited capacity of the few active plants in the world, alongside the growth of the automotive market in the three-year period 2016-2018, has led to a truly critical situation in terms of both availability and prices. This prompted the main users of polyamide 66 mouldings to examine the alternatives and to initiate technical research, in particular in the cases of nylon reinforced with glass fibre. Independent experts believe that 50% of polyamide 66 injection moulding applications can be substituted with polyamide 6 injection moulding.
Stagnoli, a company that has always been far-sighted and attentive to market dynamics and innovations, had long ago opted for polyamide 6 as a technopolymer for its standard gears, whose properties differ only slightly from those of PA66.  
Characteristics and properties of polyamide 6 reinforced with glass fibre
PA6 + GF is a Polyamide Resin with the addition of glass fibre. The mechanical properties such as tensile, flexural or compressive strength are considerably greater than normal polyamides; however, the one that surprises most is the high abrasion resistance.  The addition of the aforementioned reinforcement makes water absorption lower and the distortion temperature higher, decreasing the linear thermal expansion, as well as lowering the surface friction. All these properties make PA6 + GF particularly suitable for the production of gears and mechanical parts where considerable exertion is required.  
Stagnoli's experience: assurance in choosing the best PA on the market
This has allowed Stagnoli to  be one step ahead of its competitors: it was able to take advantage of the experience acquired to undertake in-house durability tests on gears, the results of which have allowed it to take a further leap forward in choosing the best PA6 on the market for its applications. In fact, after months of testing PAs from different manufacturers, a particular type of PA was chosen whose performance is even better than materials of more renowned manufacturers and were close to those of a PA46 (see diagram).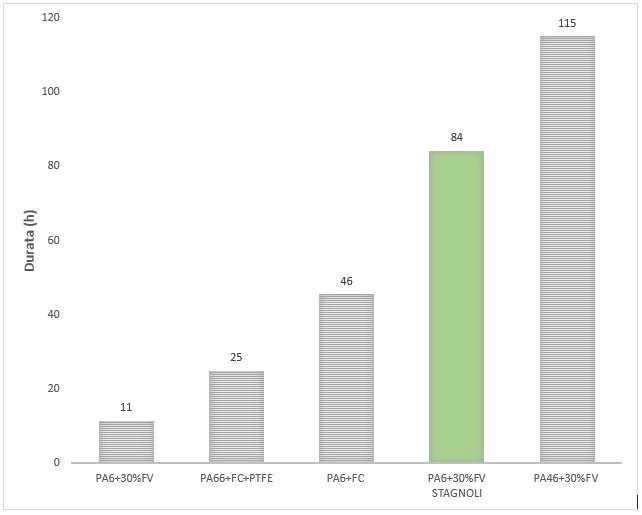 * Tests carried out under the same load conditions (50 Nm) at a speed of 300 rpm on module 2 gears, 40 teeth in operation without the use of lubricants at room temperature
If you want to know more about the advantages of polyamide PA6 for the moulding of your gears, you can contact us by email at info@stagnoli.com or by telephone on +39 030 9139511.