Gears for farm machinery by Stagnoli Gears: an innovative and sustainable solution
20 December 2021
Lately, there is increasing talk about the future of gears for farm machinery and market trend, especially in terms of new sustainability policies implemented in the European Union to face climate change and reduce its consequences.
Discussing sustainability implies also dealing with the issue of manufacturing transmission units and chain tensioner pinions with innovative design rather than the traditional concept. 
Stagnoli has always been advanced from this point of view since it has been providing gears and chain tensioner pinions in technopolymer for years in the farming sector.
The production of plastic gears for farm machinery branded Stagnoli
Our company has always used its know-how to invest in new and innovative proposals to replace and/or integrate plastic materials with metal ones and to obtain items with a considerably lower specific weight, with an exponentially reduced environmental impact compared to the same part in metal, allowing high production standards to be reached in the face of a considerably reduced environmental impact, given by less CO2 emissions.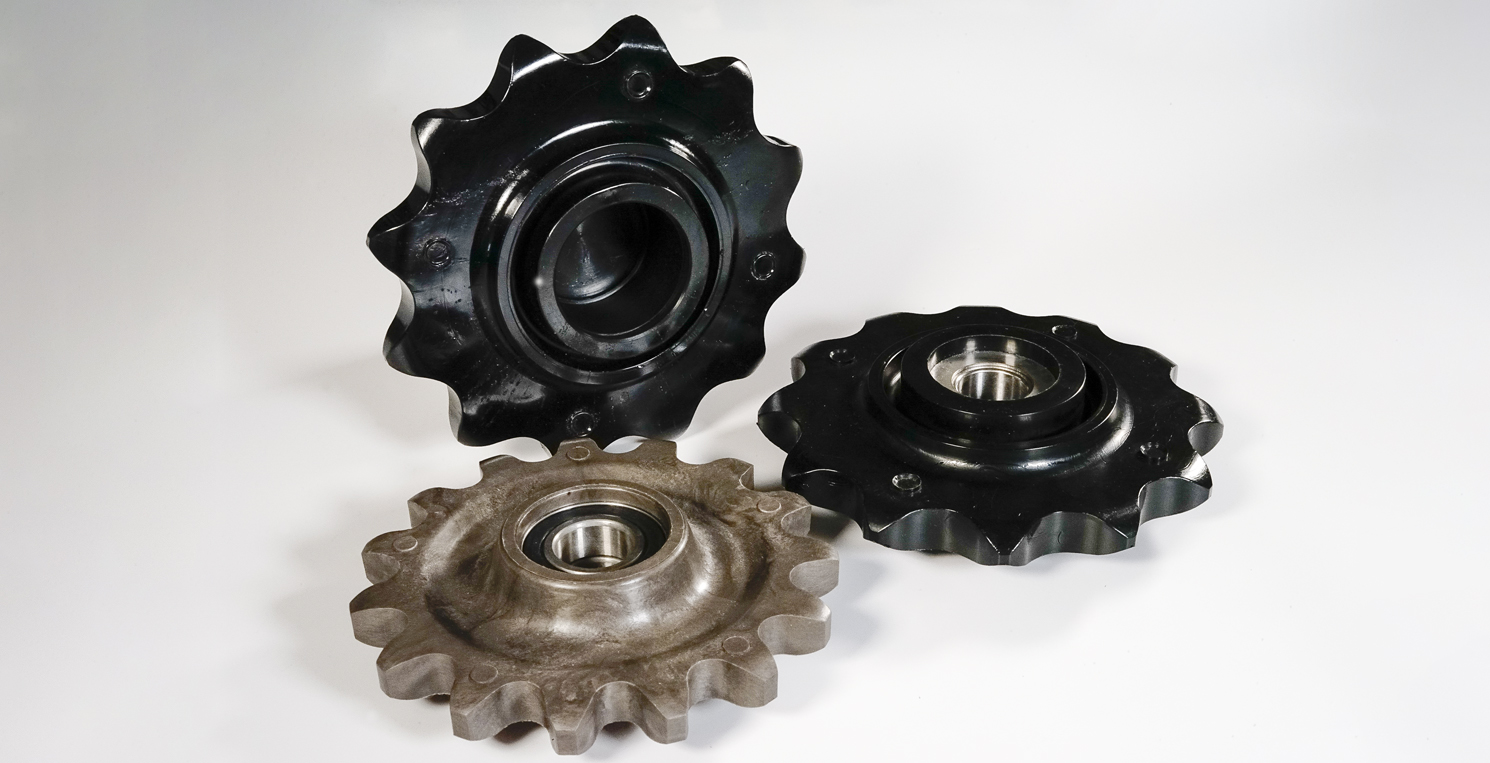 Another important aspect, relating to reduced environmental impact, lies in the possibility of not using lubricant oil and grease in applications that foresee use of plastic transmission elements. In fact, the molecular structure of the plastic guarantees a coefficient of friction and wear that is so low it makes lubrication in some cases unnecessary.
In agriculture, surrounding conditions are difficult and unstable. Therefore, it is always more important for components to work reliably and resist everyday conditions.
Choosing gears and pinions in thermoplastic for the sector and farm machinery manufactured by Stagnoli means opting for a long-lasting and performing part, which not only requires less maintenance intervention on the machinery because they are chemically inert, but also elimination of a subsequent assembly phase of the components with an obvious reduction in time and costs.
Stagnoli has always been attentive to the most challenging client requests: overmoulding of bearings in chain tensioner pinions in technopolymer for shredders, to the manufacture of chain tensioner pinions in plastic for corn and grain collection heads, to chain tensioner pinions in polymer which include use of plastic guards to avoid dirt and/or any infiltration that would compromise functionality of the transmission chain.
Do you need support for plastic gear production for farm machinery? Stagnoli is the perfect partner for you. Contact us and tell us about your project!