NEW PRODUCT IN THE CATALOG: THE TECHNOPOLYMER TOOTHED PULLEYS WITH HTD PROFILE
28 March 2019
The activity of Metal Replacement, applied to gears, transmission parts and also to other mechanical solutions, has allowed our company to be considered an innovative partner for important international projects. This is why our constant goal was to expand our range of items in the catalog.
The new technopolymer toothed pulleys with HTD profile
A real example was that of the technopolymer toothed pulleys with HTD profile with 5M and 8M pitch suitable for a belt width of 9, 15, 20 and 25 mm.
The plastic material used is always a polyamide based technopolymer reinforced with glass fiber to offer strength and suitable mechanical features. The acronym HTD is the abbreviation of «High Torque Drive» and means: «High Torque Transmission».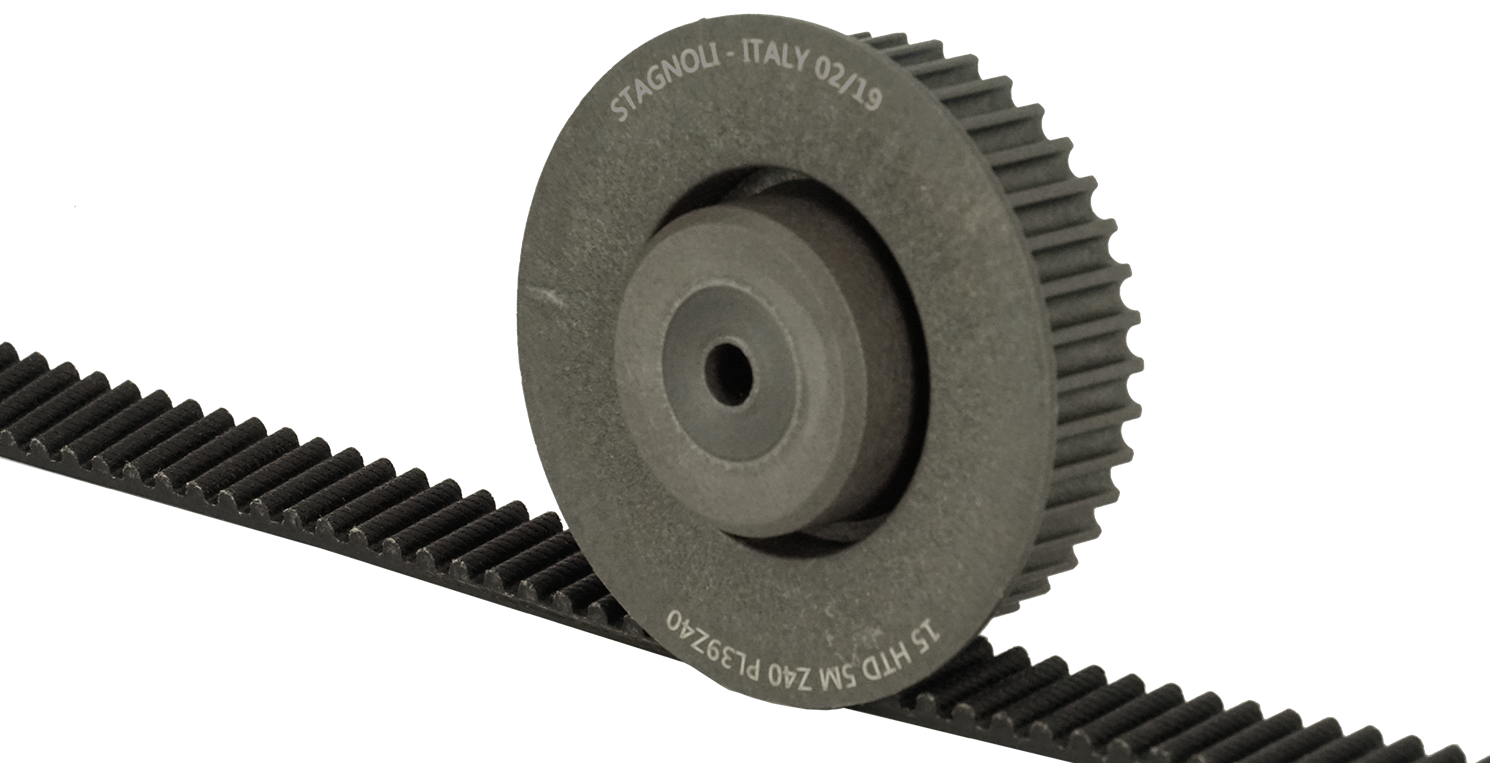 The advantages offered by technopolymer toothed pulleys with HTD profile
These technopolymer pulleys can transmit high torques at low speeds which in the past was possible only by means of gears. The rounded shape of the tooth significantly improves the stress distribution and allows higher loads; furthermore, the input and output of the tooth of the special belt from the pulley rim space are so soft and precise that even the inevitable friction is completely negligible.
The advantages are not over: in addition to the possibility of ultrasonically welding a second flange, a feasible operation even for all other types of catalog pulleys, technopolymer pulleys have also been designed for the co-molding of aluminum inserts.
The reason behind this choice is to offer the possibility, to those who need it, to increase the power transmitted if a feather key is created for coupling with a shaft and to allow its use on applications where a sudden change of direction in motion is expected with high speeds.
Contact us for more information on the technopolymer toothed pulleys with HTD profile.